A romp through 1960's America
Natasha Vargas-Cooper
A cultural catalogue * Contact: friends of dick whitman at gmail dot com
April 17, 2013
Just a Gigolo — Bing Crosby
And one more, for when you just can't make it through the door.
April 12, 2013
Don's flirtation with suicidal imagery in his botched meeting with the Pink Palace brass, reminds one of the executives of "that movie with James Mason walking into the ocean…"
He's referring to 1954's A Star is Born: a movie about 
older man with a drinking problem who sees his alcoholism deepen as his younger wife begins to come into a certain amount of celebrity.
Sound familiar?!?
In the movie, Judy Garland plays a ingenue singer who is discovered by James Mason, an aging but talented actor. He puts her in a movie to help her out and basically immediately feels she owes her life to him from then on out. He begins drinking more heavily the more popular she gets, until he crashes her Oscars speech Kanye-style and accidentally hits her in the face.
Slapstick serves for emotional epiphany and Mason goes into rehab. When he comes out, Judy Garland promises to take care of him but he soon goes off the rails again and — famously — walks into the ocean. Has anyone read Not Waving But Drowning? ("I was much too far out all my life/And not waving but drowning." So sad!)


The film itself is your pretty standard corny "you're a star now kid!" movie. Even the death is pretty cheesy — walking into the ocean? What are you, Virginia Woolf? It's a very feminine death, as well, if you'll note. Most male suicide has an active component to it and most female suicide is passive (more here on the
gender dimensions of suicide
). Water plays a huge role in a lot of female suicide, as well. Why did James Mason feel like submitting? And does Don Draper feel the same way?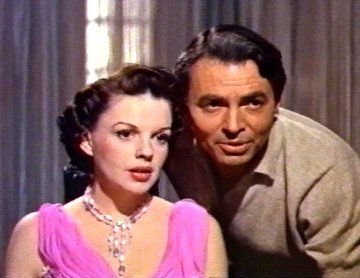 He certainly did a lot of submitting in last Sunday night's premiere: to Megan on the subject of her upcoming soap opera (remember when he refused point-blank last season to let her do theater in another city because of the commitment she'd have to make?); to those photographers on the subject of where his desk should be and what make-up to wear; to Pete and Ken after he threw up at Roger's mom's funeral and had to be escorted home; and, of course, to his old haunts in another woman's arms.
And of course, water is very much on Don's subconscious after Hawaii.But lo, look how he denies his thoughts of his untimely demise to the Pink Palace ad execs when they call him out on the movie morbidity!

Watch this space for more Don Faces His Mortality: Season 6.
June 26, 2012
If
mental health practices are Other Natasha's cocktail topic of choice
, fairy tale analysis is my particular hobbyhorse. Most people know the Disneyfied versions omit the morbidity and dark themes of the original fairy tales, but the original Beauty and the Beast, aside from some interesting quirks*, mostly remained intact from its romantic origins. (Actually, in the Disney version, the Beast is
much
more volatile than in the earliest version, in which he is essentially a courtly, chivalrous suitor.) This is probably the result of its feminized origin. The first version was written down by Madame de Villeneuve in 1740, as a longer version of the typical oral tale of Girl + Animal Bridegroom. (Bestiality a big topic in days of yore.) 
Since every fairy tale is not really just a cute kid's story — indeed, Beauty and the Beast was originally written for sharing at the court with other adults and then widely circulated thereafter — there's an underlying moral at the heart of this one. A few scholars feel the tale was intended to convince young girls that arranged marriages weren't so bad, once you got used to the idea. Consider the elements: a father gives the hand of his daughter, the Beast cautions that the girl must "come willingly" and "of her own accord", she has to honor both her father and new suitor's wishes, the Beast grants the father wealth in return (essentially a dowry), and she comes to love a stranger, for which she is then rewarded with a becoming a princess and a pretty sweet marriage. He even gives her a ring at one point as a reminder of him. 
It could veer into a Bluebeard-esque cautionary tale about minding your husband, but — again possibly because of the female origin — Beauty actually gets away with a lot. The Beast grants her every wish, and takes an incredibly passive role in her life until she falls in love with him of her own volition. He even gives her lots of money and freedom to do whatever she wants with the place — should Megan buy some more white carpets, do you think?
So Don walking away from the Beauty and the Beast diorama has some interesting connotations. (First of all, the tale is French, not German, so the whole barmaid getup on Megan is rather odd.) Don lived out the Beast part of this fairy tale bargain, but he never becomes the Prince in the end. Megan married the temperamental Beast, trying to convince herself that he was the prince the whole time. And he certainly did provide for her, the way the animal bridegroom must in order to keep his young nubile bride. The reward for him (and her) is supposed to be a happy marriage; it's one Don desperately needed, especially after failing with Betty. But she exchanges that reward for her own pride and success, and he never gets that happy ending he wanted. He went through the motions — he tried the courtly husband routine. It didn't work. Don can't become anything other than what he is; he walks away. He stays the Beast. And the Beast is marked by one thing: being alone. That castle gets mighty lonely, whether it be Ossining or a Manhattan suite.
*Three quick fucked-up things about this story, since it wouldn't be an old-ass fairy tale without them: 1) in the first version, the Beast was cursed because he wouldn't have sex with a fairy — they're vindictive motherfuckers; 2) the Beast doesn't turn into a prince until AFTER the wedding night — eek; and 3) Beauty's sisters, who are real dicks to her in the original, are turned into statues by fairies to sit outside the castle until they recognizetheir assholery. Don't fuck with fairies, man.
May 23, 2012
America Hurrah is a trilogy of short plays written by Jean Claude van Itallie, a Belgium native who immigrated to the states during WW2 with his family and educated by way of Harvard. The trio of plays— considered 'experimental'— premiered in 1966 and it ran for 634 performances. The plays were as follows:
* * *
Interview-  Referred to as a 'fugue for 8 actors'. 4 actors play unemployed job applicants: a house painter, a scrubwoman, a banker and a lady's maid. The other 4 actors are masked, anonymous, job interviewers. Each question they hurl is meant to be more humiliating and invasive than the next. The interviewees struggle for their dignity. The play toggles between a subway station, a city street, and psychiatrist's office (this is the scene Megan and Don were watching.)
* * *
TV- Three workers in a television studio glancing at monitors. They work and chatter while being utterly disconnected from the performers on screen. From the NYT review: '[The television performers] look like so many up-ended zebras - go through all the violent, cloying, synthetic motions that pass for entertainment on the national airwaves. But there is no relation between the workers and the work: a yawning gulf, big enough to drown us all, has opened between the real concerns of real people and the imaginary concerns of our imaginary archetypes."
* * *
Motel - This play is done with actors in full face masks or sometimes puppets. An 'excursion into theater of the absurd.' A blonde and a man check into a nameless motel on route 66. The female motel keeper is the only person who speaks. She extolls of the virtues of self-flushing toilets and hook rugs, while the blonde and the man crawl around on the floor and scrawl obscene graffiti on the wall. Here is an excerpt: 
Motel Keeper's Voice: Myself I know it from the catalogue: bottles, bras, breakfasts, refrigerators, cast-iron gates, plastic posies…
(In the motel room, the Woman doll opens her negligee and the man doll pulls off her bra. The Man and Woman dolls embrace. The Woman doll puts lipstick on her nipples.)
Motel Keeper's Voice: Paper subscriptions, Buick trucks, blankets, forks, clitter-clack darning hooks, transistors and antimacassars, vinyl plastics..
 (The Man doll writes simple obscene words on the wall. The Woman doll does the same with her lipstick)
Motel Keeper's Voice: …pickles, bayberry, candles, South Dakotan Kewpie Dolls, fiberglass hair, polished milk, amiable grandpappies, colts, Galsworthy books, cribs, cabinets, teeter-totters…
May 11, 2012
Lady Lazarus and A Chat About Death, Part 2
"Lady Lazarus", in Plath's own words, is about "the agony of being reborn." And Megan spent a good deal of the last episode attempting a career rebirth — an agony we can all vibe with. Not only did she have to contend with her own ambivalence about the situation, but with the risk of bringing her all-id husband dangerously close to an existential meltdown. The man cannot handle even tacit questioning of his liiiiiife.
I am your opus
I am your valuable
[…]
Ash, ash—
You poke and stir.
Flesh, bone, there is nothing there—

A cake of soap,
A wedding ring,
A gold filling.
Operating not so much as her own character but rather an agitator of the characters around her, Megan may be bringing everyone else to a frothing analysis of her motivations before burning out in a flash of phoenix-like glory like the Lady Lazarus of the poem. (The peanut crunching crowd/Shoves in to see) Notice that "wedding ring" is one of the primary material symbols that the speaker claims does not represent her. Megan is impossible to analyze, refracting attempts to do so into a million opinions on how to feel about her (in us too!), but she is an extraordinary illuminator of the people around her.
Footnote by Natasha Simons
October 13, 2010
Don's first-season moments with Midge are as rosy as rosy can be—they listen to Miles Davis, smoke a little pot here and there, and go their respective ways—him back to Ossining, her back to Bob Dylan-types and 'I love you, Grandma!' greeting cards.

In Don's mind, the women he medicates with never change. In reality, they stay in the Village too long and wind up slaves to the needle.

Yes, in a quickly decaying New York, it makes sense that counterculture rears its ugly head in the form of heroin-addicted Midge and her would-be pimp husband.


A year or so away from the Velvet Underground's ode to the drug, Village heroin use was in full swing. A 1965 Life Magazine shoot takes us inside the claustrophobic world of two addicts—a young couple who steal and hustle to feed their collective habit and leave their squalid quarters only to score (don't even get me started on how much like the recent activities of Sterling Cooper Draper Pryce this is). 

Don tells Midge that he's expected to see her in the Village, and of course he has! Don Draper knows nothing of what it meant to be an early bohemian woman—remember, Midge is living the boho life in 1960, a solid six years before little Peggy Olsen dares to venture over to a loft party. By 1966, Midge's art career has gone nowhere, and the Dons of New York have moved on to younger and brighter things, and Midge's flouting of convention has left her (literally) high and dry.


Destruction is on its way—to our SCDP heroes, to the women they throw money at, to the very city in which they all ply their trade. In a few short years, the Village will be uninhabitable for besuited businessmen like Don. The walls are closing in, and Don Draper's only starting to notice.
*Footnote by- Angela Serratore
August 11, 2010
If a lady can either be a Marilyn or a Jackie, then this same Kinseyian principle also applies to automobiles.
Every convertible may look similar, but they're not the same. Out in the sun-drunk air of Southern California, free from his cold, urban life, Don Draper's automotive selection presents what type of man he is.
If this was the Don of Season 2, we could envision him behind the wheel of the brand new (to the marketplace) Ford Mustang – a powerful and sleek automobile, able to attract ladies with just a glance – touring PCH with the top down.
Instead, it's Season 4, and he's a different Don, clunking along in the "luxury" Imperial, carrying its 5,185 lbs. of American steel and dreadfully harsh lines. Where is the guy who pitched the Jantzen ad earlier this year? Oh yeah, he's cruising in a car for older men trying to feel young again.
And if the Imperial is reminiscent of something, it's not a two-piece bathing suit. The Chrysler is lacking the arousal factor (something Don desperately needs to find again) to pull that off. A few years prior, Chrysler pulled off what Duck Phillips never could: they poached designer Elwood Engle away from Ford. While at Ford, Engle designed multiple automobile bodies, including the 1961 Lincoln Continental.
Hey, wasn't that Grandpa Gene's car? 
*Footnote by - Mike Adams
July 27, 2010
Here's the song that thumped in background as Don described 'holstering up his guns'.
It's by the Nashville Teens who were not from Nashville. They were from England. 
I was born in a trunk. 
Mama died and my daddy got drunk. 
Left me here to die alone 
in the middle of Tobacco Road.
Self-mythologizing is an important skill! 
July 23, 2010
"Everything in California is new and the people are full of hope" — Don on my home.
The Wrap is running the excerpt from the book today : California Cool
"We never learn the full names or identities of the Fellini-esque aristocrats with whom Don escapes. Names like Rockefeller, Astor, Rothschild, Dykeman — or Whitman — mean nothing in the desert. The whole scene is drenched in a democracy of the sun. Nothing has come before and few think of tomorrow."
Bask with me.