Swathed around Joan's sumptuous hips or bubbling over Betty's delicate shoulders is a clothing style called the New Look.  In 1947, Christian Dior, introduced his line of women's clothing that revolutionized women's clothing and fashion manufacturing.
Up until Dior's models sauntered down the runway, the fashion world had also been suffering the deprivations of WWII. In response to women working on factory floor workforce, war rations, and the morose atmosphere that comes with something like economic devastation from warring empires, clothes coming out of Europe were plain and functional. 
Dior's 1947 line rejuvenated the fashion world with his voluptuous new collection infused femininity back into fashion with yards and yards of luxurious fabric. The line combined long billowing skirts with pleats folded , narrow waitslines, soft rounded sleeves, flowering dresses, hour glass silhouettes, and accessories such as umbrellas and gloves.
"It's quite a revelation dear Christian," Carmel Snow, the editor of Harper's Bazaar remarked at the time, "Your dresses have such a new look." 
French Couture patrons (ie, rich ladies) were in a frenzy to wrap themselves in such elegant and cutting edge designs.  But Dior's biggest clients were Americans: Hollywood stars, New York socialites and most importantly, department store buyers who purchased exclusive rights to individual designs to be reproduced by their factory houses. Even discount retailers were allowed to attend Dior's private fashion shows if they promised to buy the rights to nine outfits.
Other clothing companies would send sketch artists to European fashion shows, copy the design, and mass produce inexpensive clothing to American population. And that's how the steno pool got pretty.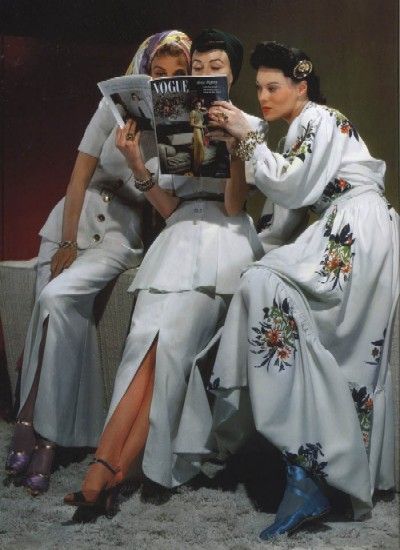 ladygiorgiana reblogged this from whattheywore